Collaboration/Working together. Over the years, I've had the opportunity to work with many outstanding artists and writers to produce some fine work. They include: Keith Aoki, Bob Barry, Jeff Bruner, Hollis Frampton, Tim Grajek, Ed Hettig, Lucy Lippard,  Scott MacDonald, Bob Morris, Bud Panzera, Hank Stahler, Twyla Tharp,  and more!
But, here, I'd like to focus on the work Carol Kinne and I have done over the past four decades.
Carol Kinne is one of the many outstanding artists (often women) whose work has been overlooked. She has worked in painting, sculpture, printmaking, film, photography and now computer generated art. (Visit her website carolkinne.com)
We were colleagues at Hunter College and eventually became a "team".
EPHEMERA: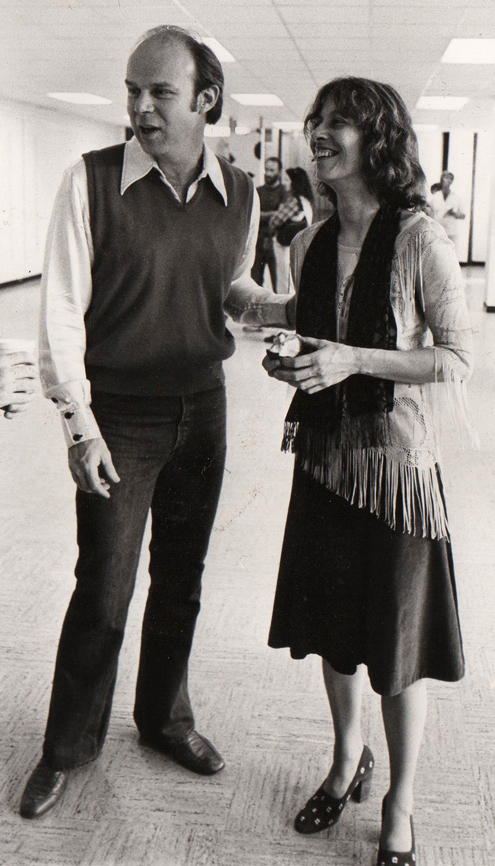 Buttons, Postcards etc.
EXHIBITIONS:
96 Grand Street, NYC, 1978
Utica College, Utica, NY 1979
Gallerie Arnaud LeFebvre, 2 person shows

FARMING:
Columbus, New York
FILMS:
"Third One Year Movie" 1972-73
"Accentuate The Positive" 1973
"Beautiful Movie" 1973-74
"Diary Film #4" 1973-74
"Diary 1974-75" 1974-1978
"Face of Faces" 1976
"Fades and Close-ups" 1978
"China 1978" 1978
"Super 8 Diary" 1979-1980
"Erotic Trilogy" 1979-80
"Cum Foo" 1980-81
"Diary 1980" 1980-82
"Doctor Fautus' Foot Fetish" 1981-82
PAINTING:
"Samplers" – 2014
PERFORMANCE:
With Cameleons – #1 Roadie and Performer –  1980-1990
PHOTOGRAPHY:
Red Classic Series
Masks II

POSTERS:
"No Nukes", "Ground Zero"
" Spaceland"
---
Robert Huot and Edward Hettig – Over 30 years of Collaboration
Robert Huot and Edward Hettig began collaborating in the early 1990's.They met through local events and related concerns. Hettig headed the marketing at Golden Artist Colors during the 1990's and lived in New Berlin.
They initially were involved in an economic development group called The Central Unadilla River Valley Economic Development (C.U.R.V.E.D) Team. Their mission was to promote and pair the area's bucolic rural environment with smaller, sustainable enterprises to increase commerce. Another key initiative was to identify what the current commerce activity and support the community by identifying their property and business on a large town map and publishing a business directory for the benefit of the residents.
Along the same lines Huot and Hettig pioneered other projects as members of the Chenango County Agriculture Development Council, a Cooperative Extension outreach group based in Norwich, New York. This included starting Farmer's Markets in Sherburne and New Berlin, New York as well as supporting a project called "Chenango Bounty" that provided access to local produce, baked items, meats and other local products.
For another project, Huot purchased cheese making equipment to make "Chenango Cheese" and worked with Hettig for marketing the brand. Initially they worked with Cornell University and SUNY Morrisville to research and develop the recipe for recreating a famous old regional cheese called "Pineapple Cheese". (Which proved too labor intensive and costly.) The duo successfully made "Chenango Jack", Cheddar and fresh cheese curds. Some of the original batches made at the SUNY Morrisville dairy incubator were stored for several years in the cellar at Bob's Farm, aka "Bob's Cheese Cave". These cheeses were indeed sharp and tasty!
Through the 2000's Huot and Hettig collaborated on this website, roberthuot.com and a number of smaller bumper sticker designs featuring Huot and Kinne's "Samplers" paintings, like "Sustainable Selfishness" or designs like "Mother Earth is Pissed. They also addressed social issues with bumper stickers and postcards such as "Mother Nature Makes No Deals", "Net Netrality", and "Pee in their Tea".
The most ambitious project to date was founding Alexander/Heath Contemporary, LLC, a contemporary art gallery in Hettig's new city of residence, Roanoke, Virginia in 2015. The gallery's name was formed from their respective middle names. Huot's massive Triangle paintings were featured in the inaugural exhibition. and more recently ""The Figure through the Ages" an exhibition in July 2023. The gallery has featured over 50 exhibitions from artists around the world. The gallery relocated to its new downtown space at 109 Campbell Ave SW  with an expanded vision of contemporary art exhibition.
DEATH AND THE MAIDEN / ROBERT HUOT / DETAILS and EXHIBITION IMAGERY
Homage to Hans Baldung Grien in the Age of Covid-19
Robert Huot with Carol Kinne, Edward Hettig and Katy Martin
Galerie Arnaud Lefebvre, Paris France, March 4 – April 30, 2021
In this new series from Robert Huot, the artist personifies the role of Death, while the Maiden is portrayed by his late wife Carol Kinne, who modeled for the photos before her recent passing. Death stalks the Maiden in the allegory, at the same time that the living artist stalks the memory of his spouse in the studio… or is it she that stalks him? The undeniable force of Kinne's presence in the photos renders the Death character perhaps the frailer of the two. Death hovers, covetous but trapped in an ethereal space, while the Maiden incarnates reality, physicality, and worldly beauty. With the context of real life, one might view this Death as the one that claimed Kinne, but in the photos the artist embodies his own fra-gility, which is heightened by his wife's passing, even as he delivers her image into the immortality of this classical motif. The large-scale prints immerse us in a realm where literal and figurative death circle each other, posing each other questions, and where ultimately, both artists transcend. 

— Jason Stoneking / March 2021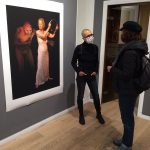 Huot and Hettig collaborated on "Death and the Maiden" in 2020. The idea for the project was initiated by Huot in early 2020 as an homage to the work of 16th century German artist Hans Baldung Grien who created several works with "Death and the Maiden" as a motif. Huot and Hettig used photographs of Kinne shot by Huot in 2009 and combined them with photographs taken of Huot by Hettig in 2020. Hettig then merged the images together in Photoshop to create the final works which were masterfully printed by Katy Martin.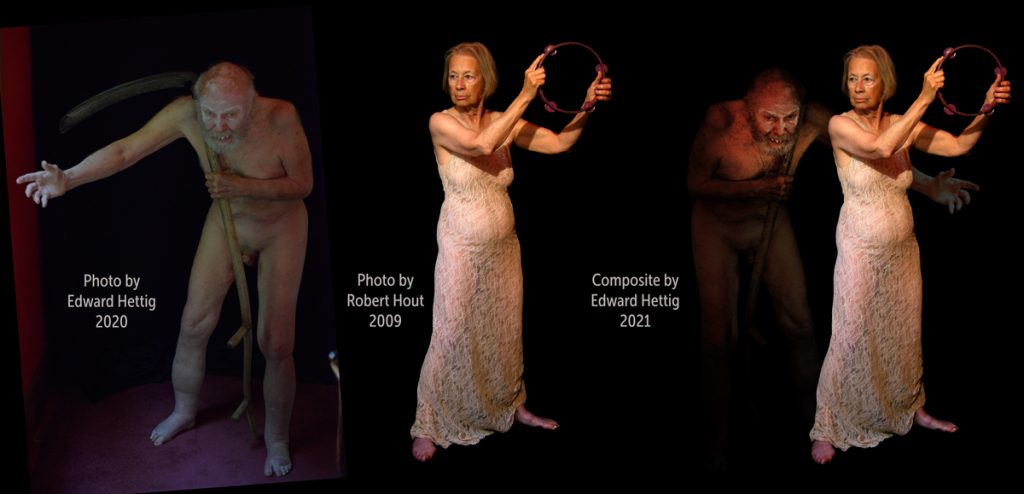 ---
Eric Marciano
Eric Marciano of Digitally Correct Media worked as Director, Producer and Editor for various video productions with Huot during 2020 and 2021 supporting local democratic campaigns and chiding the "Repugnicans". Huot wrote, produced the videos. Huot also performed along with Tim Grajek, fellow Chameleon group member, who provided writing and music support.  The video titles are: Brindisi Campaign Ad; Ruling Class Look; I'm Mad; and GOP Prayer.
Eric Marciano is a New York based filmmaker, media designer and storyteller. In 1984 he formed American Montage, a film, video and media creation company. American Montage has successfully completed projects for such media outlets as HBO, Discovery, The US Army, ESPN, A&E, TLC,
Magnum Photo Agency, PBS, New York Times, numerous Ad Agencies, PR Firms and Web sites and Social Media destinations. Website digitallycorrectmedia.com