Collaboration/Working together. Over the years, I've had the opportunity to work with many outstanding artists and writers to produce some fine work. They include: Keith Aoki, Bob Barry, Jeff Bruner, Hollis Frampton, Tim Grajek, Ed Hettig, Lucy Lippard,  Scott MacDonald, Bob Morris, Bud Panzera, Hank Stahler, Twyla Tharp,  and more!
But, here, I'd like to focus on the work Carol Kinne and I have done over the past four decades.
Carol Kinne is one of the many outstanding artists (often women) whose work has been overlooked. She has worked in painting, sculpture, printmaking, film, photography and now computer generated art. (Visit her website carolkinne.net)
We were colleagues at Hunter College and eventually became a "team".
EPHEMERA: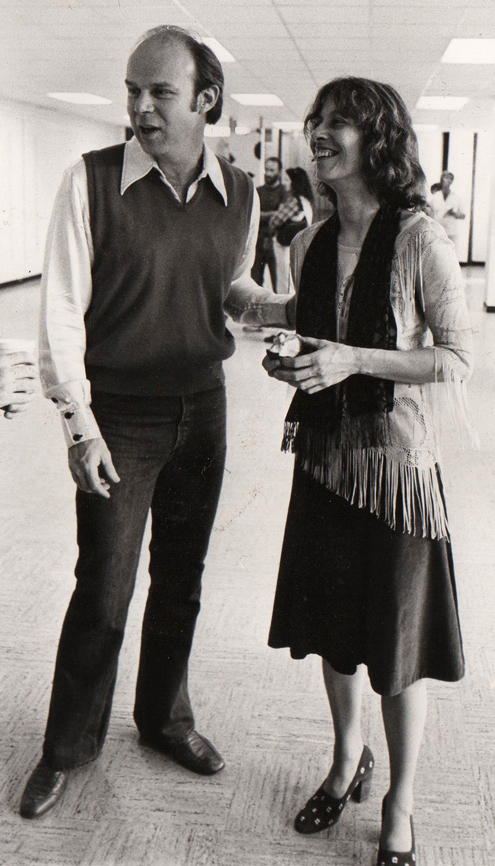 Buttons, Postcards etc.
EXHIBITIONS:
96 Grand Street, NYC, 1978
Utica College, Utica, NY 1979
Gallerie Arnaud LeFebvre, 2 person shows

FARMING:
Columbus, New York
FILMS:
"Third One Year Movie" 1972-73
"Accentuate The Positive" 1973
"Beautiful Movie" 1973-74
"Diary Film #4" 1973-74
"Diary 1974-75" 1974-1978
"Face of Faces" 1976
"Fades and Close-ups" 1978
"China 1978" 1978
"Super 8 Diary" 1979-1980
"Erotic Trilogy" 1979-80
"Cum Foo" 1980-81
"Diary 1980" 1980-82
"Doctor Fautus' Foot Fetish" 1981-82
PAINTING:
"Samplers" – 2014
PERFORMANCE:
With Cameleons – #1 Roadie and Performer –  1980-1990
PHOTOGRAPHY:
Red Classic Series
Masks II

POSTERS:
"No Nukes", "Ground Zero"
" Spaceland"