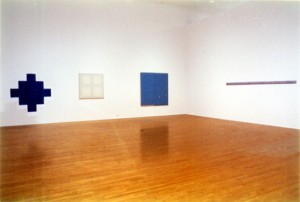 A Minimal Future?
As well as the absent space, there were works that suggested hidden or partially obscured space. In the gallery after Morris' works were the much less well-known paintings of Robert Huot. Huot stretched ballistic nylon over wooden stretchers he had painted white; the wooden bars showing through the silvery weave like a ghost (Nylon One, 1967). It was to the realm of the dead that Morris wanted to consign painting, of course, but the elegant suite of rooms initiated with Huot's indicated how much the medium developed during this period.
– Mark Godfrey
Art as Object: 1958-1968
March 14 – August 2, 2004
Ann Goldstein, Curator
MOCA at California Plaza, Los Angeles
Collecting History
Inspired by the remarkable growth of the museum's holdings through gifts and purchases over the past decade, Collecting History: Highlighting Recent Acquisitions surveys recent acquisitions to MOCA's world-renowned permanent collection, with a particular focus on the last five years. MOCA's recent collecting is notable for its breadth and range, and the exhibition assembles significant works by historical, mid-career, and emerging artists working locally, nationally, and internationally, including  Robert Huot  among many others.