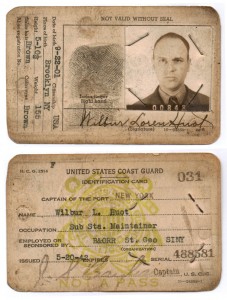 My political consciousness arrived at an early age. The source was what I perceived to be my father's exploitation by his employer (The Baltimore and Ohio Railroad). He worked five and a half days a week and he was often called out in the middle of the night during electrical storms, to restart the substation generators. He was never paid overtime even though he was a member of the IBEW (he was salaried.)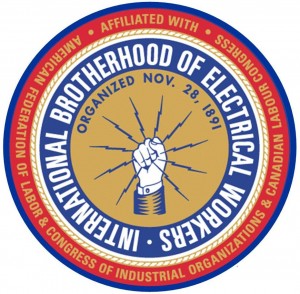 I got my "working papers" as soon as I could (at 14). I worked as a camp counselor, an insurance company mail clerk, in a supermarket warehouse and as a laborer at US Gypsum and worked my way through college. At US Gypsum I got involved with Union organization.
Upon graduation I received a B.S. in chemistry from Wagner College and went to work for Sun Chemical as a pigment chemist. (A good job for a young painter.) There was no Union and workers often worked in unsafe conditions. In my job I was involved in all phases of production which often meant being out in the plant overseeing formulas that I had developed or streamlined.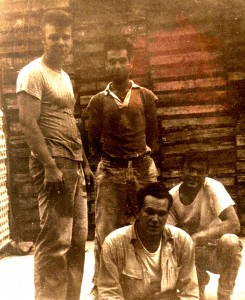 One new formula for a Permanent Orange involved a diazotization that produced a dangerously toxic gas and there was no exhaust system to pull the gas safely away. I shut the process down. I said this could not continue until it was made safe. I thought I'd be fired. I was not fired, and to my surprise a venting system was installed making it far safer.
Shortly thereafter in July 1958 I was drafted and served two years in the military. I was assigned to CONARC Material Development and worked on such wonderful weapons as the Claymore mine and MRE's. When I was discharged from the Army, I painted until my unemployment benefits ran out. (There wasn't much call for pigment chemists.)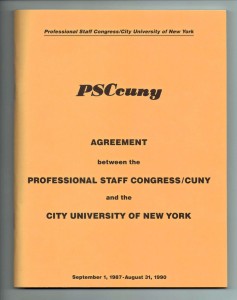 I went back to Sun Chemical for a short time and then ran a small paint factory, making good, inexpensive artist's oil paint, but acrylic knocked us out of business. I received unemployment once again.
I had been studying in the Hunter College Graduate Art Department and Gene Goossen, the Chairman, visited my studio and offered me a job just in time. (My benefits were about to run out again.)
The CUNY Teachers Union, the Professional Staff Congress (PSC), was strong; almost a closed shop and I became an active member, eventually the Chapter Vice Chairman.
The Union was very important during the City's financial crisis. We were able to save many jobs, keep class sizes manageable and our professors with financial expertise were able to assist the Board of Higher Education (The BHE) with a constructive financial plan, keeping CUNY operational throughout the crisis, saving jobs and whole programs.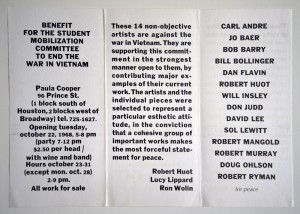 The Union was strong and resourceful. I was proud to be a part of it.
Simultaneously the Student and Anti-Vietnam War movements grew and participation was mandatory. I was active in supporting both.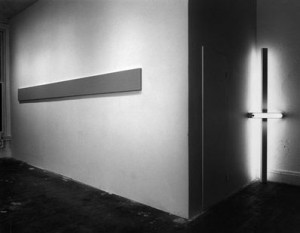 In October 1968, Lucy Lippard, Ron Wolin (of The Socialist Worker Party) and I curated a Show at Paula Cooper Gallery as a benefit for the Student Mobilization Committee to end the war in Vietnam.
All of the work was Abstract, Minimal or non-objective. (There were no nasty cartoons of LBJ.) The Show was beautiful and a success. We raised money for the movement.
This was, in a way, the beginning of what would become The Art Workers Coalition, (at least for me). Working with Lucy was a turn on and a number of artists in the show would join Lucy, Frazer Dougherty, Poppy Johnson and I to become founding members of the AWC.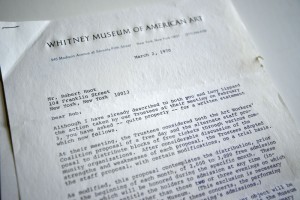 Many of my AWC activities were clandestine or invisible: The 1 a.m. watch at the U.N. during a 24 hour peace vigil: sneaking into a corporate office building with three reams of paper to make copies of our propaganda at 12:20 a.m., etc.
I was chair of the "Action" Committee and our most successful idea was a "Penny In". A few of us arrived at MOMA and went up to the ticket booths with bags of pennies. I was first in line and began counting out my pennies, "oops, I miss-counted, I'll have to start again." I did this a few times and Security came running.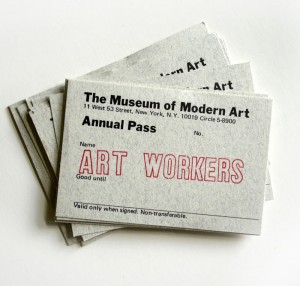 This activity led to negotiations with many of the city's museums and for a while "Free Days" or free tickets or pay what you can "Free Will" donations at the door. MOMA still has a few "Free" hours on Friday evenings.
To Summarize: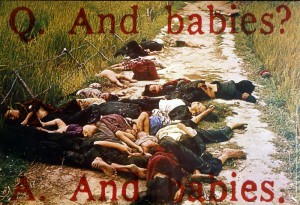 The Art Workers Coalition started with a small group of Activists who cared about the issues and politics of art. We chose to address the lack of representation of women and minorities in galleries and museums. We worked to get "Free" days or reduced costs for students and seniors at museums. We were active in the Anti-Vietnam War movement, participating in many demonstrations. Our members produced the famous My Lai Poster.
As is usually the case, there was a small group who did the work. It was composed of Lucy Lippard, Frazier Dougherty, Poppy Johnson, Carl Andre, Farman, Bob Huot, Jean Toshe, Lil Piccard, Ted Castle, Hans Haake, Tom Lloyd and a few others.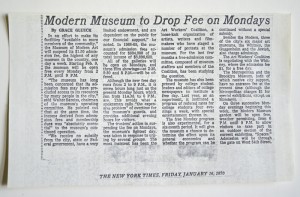 We had some successes with our efforts. Slowly women and minorities achieved the recognition they deserved. The museums had "Free" or pay what you will days. The Vietnam War slowly came to an end thanks to our efforts along with tens of millions of others.
But the AWC core dispersed – moving, marriage, family, etc.
There was a later attempt to restart the AWC with a large meeting at NYU attended by a number of notables, but it failed to materialize in spite of the effort. None the less, for a brief time (about two years) the Art Workers Coalition had a powerful impact on the art community.
There were a few spin offs, a couple of study groups and a small group led by Warren Tanner to get art works shown in public spaces with some success. I think some of the spirit of the AWC lives on.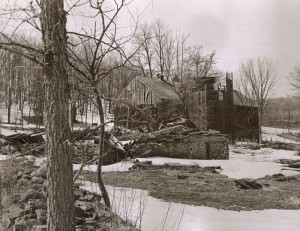 —–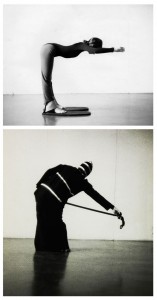 In early January 1970 my first wife Twyla Tharp and I moved to and old farm in central New York about 200 miles from the city. This new adventure consumed much time and energy. I continued to teach at Hunter College and make films, BUT, there was a leaking roof, a sad water pump, a broken furnace, windows to replace and, and, and hundreds of miles to drive each week.
Survival was top priority. My extra-curricular activities were limited and I focused more on family, students and the CUNY financial crisis, but I did try to include AWC activities as much as much possible.
From the mid-60's to the early 70's I worked with Twyla co-choreographing the first two dances, Tank Dive and Cede Blue Lake, designing sets and costumes and acting as Artistic Director.
In March 1971 we had a wonderful son, Jesse. Unfortunately the stress of family and career drove us apart, but we did many fine things together.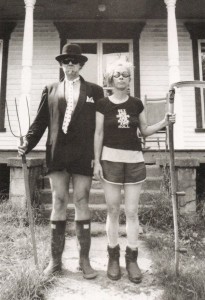 In 1973 artist Carol Kinne and I began to live and work together. Shortly thereafter her mother died and left her a small inheritance that enabled her to buy 93 acres of farm land. She built a beautiful studio home.
Over the years, Carol and I have collaborated on many agricultural and art projects: posters; buttons; postcards; performance pieces; and films. Often we call them Bye-Ped productions.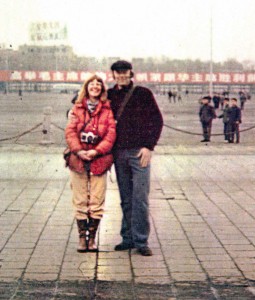 In late December of 1977, Carol Kinne and I joined members of an artists and writers study group to visit China for three weeks.
In 1991 I retired from teaching at Hunter College. Farming became increasingly more important. Carol and I put in our own hay and sold some. Most we fed to our Jersey dairy heifers. (We raised dairy replacements.) Eventually we kept 60-70 animals of various ages.
We also became involved in town politics. Carol chaired the Town Planning Board and I served 8 years as Town Councilman.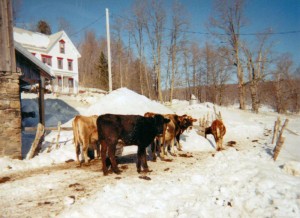 In the mid-1990's Chenango County held a series of  economic development meetings and workshops led by the Chamber of Commerce. These meetings and workshops produced a few development groups county wide.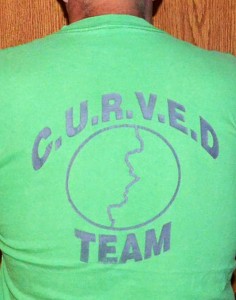 Our group was called the Central Unadilla River Valley Economic Development Team, The CURVED Team. The original volunteer members included Roy Chamberlin, Ed Hettig, Bob Huot, Carol Kinne, John Van Lierde, Blair Mancuso, Kay Winton and a few others.
Since there was little or no financial support, we sold programs at the summer Unadilla Motocross event. With this small income, about $1000 a year, we sponsored local farmers markets, educational seminars, fun events at local fairs with prizes, and created a regional map showing local farms and businesses.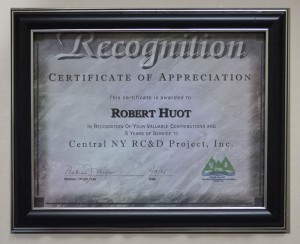 I also entered agricultural politics, serving on the County Ag Development Council and the Central New York RC and D Board (a regional 12 county federal agency.) It felt good, usually, to be able to work locally and help develop policy that benefited our community.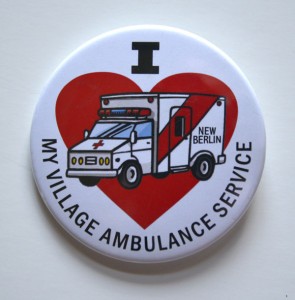 Lately we've worked with Ed Hettig of ID Marketing. So, some of our recent products are Bye-Ped/ID Marketing. One of our recent actions was to produce an "I Love My Village Ambulance" button in response to an ongoing ambulance service dispute.
I continue to shoot film, paint, write letters, demonstrate and with Carol, make postcards, buttons and bumper stickers.
Various images from Robert Huot's archive.