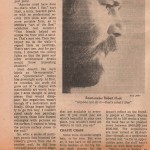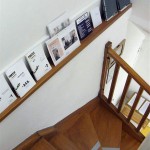 In the late 60's and early 70's my art work evolved or devolved from minimalist to conceptual to invisible. The work became pieces of tape, skins of paint, sand and shadows. My films were leader and found footage. I dropped out of the official art world and stopped showing in galleries. I became invisible.
THE NEW YORK TIMES – April 27, 1969
Art Notes
A Clean, Well-Lighted Room
By GRACE GLUECK
Well, it's one way out of the easel painting bag. As his new work at the Paula Cooper Gallery (100 Prince Street, off lower Broadway), Robert Huot has created a room. A big, bare room, with floors newly scraped and coated with polyurethane, two walls painted robin's egg blue (Pratt & Lambert No. 5020 Alkyd) and a third (white) bearing real shadows cast by ceiling paraphernalia. He views it, actually, as a three-part piece.
"Anyone could have done it—that's what I like," says Huot, a burly, bearded painter with no professional secrets. (His work also takes more portable form, as in MOMA'S "Art of the Real" exhibition last summer.) "Two friends helped me scrape the floor with a sander. That's part one. Then they helped me do the walls—I regard them as paintings, That's part two. And for part three, I directed the ceiling lights so that pipes and other architectural details would throw interesting shadows."
Huot doesn't like such labels as "de-materialist," and "ephemeralist" makes him downright surly. At first, he concedes, his work did grow out of "a disgust with materialistic art world hangups. I even thought of doing pieces that would disappear. But negativism wasn't enough motivation. And finally, things began logically to go this way. I couldn't stand candy box paintings any more, those little framed rectangles with the pictures on the surface. I wanted to bring the picture surface closer to the wall."
So, after a series of multipart panels that bounced the viewer's glance from one to another wall, he did long canvases whose curved edges hugged it. Then came a group of nylon paintings—translucent scrims that revealed the ghost of the stretcher behind. Finally, the breakthrough-a band painted right on the wall itself.
"Now I've accepted it as a surface—I don't have to adorn it with patterns or designs. When I did these walls, I really got to know them—their imperfections, the way they met the ceiling, the way they'd been constructed. It was great."
Huot indicates that the germ of his anybody-can-do-it thing may have been evident in his childhood fascination with the sight of his father painting their house. He enjoys doing "location pieces" for his friends. An example: the band of aluminum paint, three inches deep and 33 feet long, that he's laid on two walls in the Bronx apartment of Robert Barry. "I like things that are available to everyone. If you could just see what's beautiful in your own place, you wouldn't need art objects to turn you on."
Ideas from the 60's
Shown at Galerie Arnaud Lefebvre, Paris
January 9 through February 8, 2014, "For Seth"