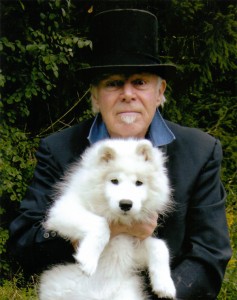 I was born in 1935 and spent the first twenty years of my life on Staten Island. In the prewar years and well into the 50's, it was still largely unsettled. There were farms, extensive wooded areas and wildlife. I loved to be outside and spent much of my free time in the woods or at the beach. In 1969, I bought an old farm in Chenango County in Central New York. Over the years, I've restored the buildings, fixed the fences, and reseeded the meadows. I raised dairy cattle, Jersey and Holstein, and put in my own hay. Part of everyday was involved with "nature" for better or for worse. Consequently, everything I do is informed by nature including my art.
As a human I am part of nature so what I make could be considered an extension of nature, but not an imitation of nature. My paintings are not pictures. They are paintings. They are artifacts; they are acrylic paint on cotton canvas. Three generations ago, most Americans lived in rural regions and were involved to some degree with agriculture. Today at least 85% of our people live in urban and suburban communities. Interestingly, agriculture remains amoung the top three industries or our state and I have become a part of it. Art and agriculture are two of my major pre-occupations.
I started my art career as a painter. I've done many things along the way, but I've continued  to do things that might be called painting and always have thought of myself as a painter.
For me, the 60's and 70's were filled with many important moments: The Vietnam War, marriage, birth of my son, divorce, a second marriage, and many other events and influences. Among those influences was R. Buckminster Fuller. I read all his written work, attended his lectures and exhibits. For years I'd been looking for a different format for painting other than the rectangle. (The production line pushing out long strips of stuff chopped into rectangles –dominating our vision.) Clearly there were shaped paintings over the centuries right up to the shaped canvas of the day, but – somehow that didn't do it. The shapes of those paintings were dictated by architectural settings, arbitrary decisions or areas unaccounted for. One of the essential factors of Fuller's investigations was the equilateral triangle – the simplest most stable structural form. Soon the equilateral triangle began to be the basis for more and more of my image-making in all media. (Interestingly, my wife, artist Carol Kinne, has also worked extensively with the triangle.)
The long journey of dematerialization has led to the cave – to charcoal, blood and stains of berry juice. Benjamin, I have succumbed to "aura" with lust and no shame (and I set out to minimize material and celebrate ideas). I hope I continue to celebrate ideas.
– Robert Huot –
---
Website Design – Edward Hettig / www.edhettig.com
Photos:  Charles Ashkenasy, Bob Barry, Marion Faller, Tim Grajek, Ed Hettig, Jesse Huot, Robert Huot, Carol Kinne, Arnaud Lafebvre, Robert Moore, Bob Morris, Herb Perr, Richard Wilcox