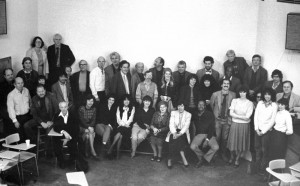 When I think about my work as an artist, it seems I always go back to the point at which I began to think of myself as an artist, the moment I saw the possibility and considered using a major portion of my day for "Art" activities. This happened when I was an undergraduate chemistry student at Wagner College. I had always drawn, painted and made all sorts of things but never thought of these as "Real Life" activities. The only adult I knew who made art was the town barber who decorated his shop on holidays.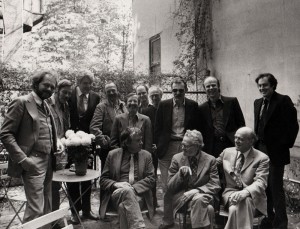 At Wagner College I met a few students who were feeling what I was feeling, and a teacher, Tom Young, actively involved in the Abstract Expressionist movement. Soon I was hanging-out on Tenth Street and drinking beer with a lot of fine artists at the "Cedar." I finished my degree in chemistry, took a few art courses, and painted. I worked, by chance, as a pigment chemist for a year and was drafted into the army. While in the army I decided I'd better make some moves to put me in the thick of it (Art | Artists).
I had no real formal training, So I thought Education – graduate school was for me. I'd heard Robert Motherwell was at Hunter so I decided to go there when I finished my two years in the service.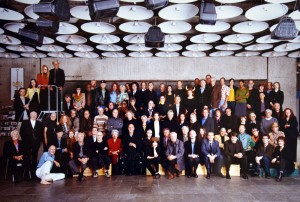 When I got to Hunter, Motherwell was gone but there were other teacher-artists and students who were just what I needed – Bultman, Sugarman, Parker, Morris, Ohlson, and more. I spent 3 or 4 semesters at Hunter and got much from my associations. I quit my chemistry job and ran a small paint factory for Nate (Neti) Berman. We made some good quality, inexpensive oil paint in large sizes for artists, but the trend was to acrylic, so after a year we closed the factory. I went on unemployment and painted 'till my benefits ran out. Luckily, Gene Goossen (Hunter) offered me a part-time job teaching discussion groups in introductory Art History. It was sink or swim, and I swam.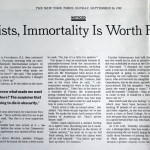 In winter of 1962 Bob Morris and I began to work on a performance "War". We presented it at Judson Church in early 1963. My "official" art career had begun.
In 1999, I was part of group of artists that were photographed by the Whitney Museum of American Art as part of their "American Century: Art and Culture, 1900-2000".
– Robert Huot –